Walk to school
Chappelle Gardens is home to 3 schools in the Edmonton public system. Donald R. Getty and Garth Worthington are K-9 schools; Dr. Anne Anderson is a high school.
Donald R. Getty K-9 School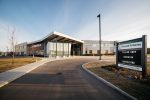 Chappelle Gardens' Two K-9 Schools and High School
Donald R. Getty School, Garth Worthington School, and Dr. Anne Anderson high school offer quality education for students from kindergarten through 12th grade in Chappelle Gardens.
Integrated with technology, these schools offer a safe learning environment for your child. Visit their websites to find out more information on the programs they offer and how to register.