Donald R. Getty K-9 School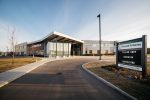 Chappelle Gardens' Very Own K-9 School
Donald R. Getty School offers quality education for students from kindergarten through 9th grade in Chappelle Gardens. "It's right in the community," Principal Robert Steenwinkel explains, "and with weather permitting, parents are walking their children to school and their children are biking and riding their skateboards or their scooters."
Integrated with technology, this school offers a safe learning environment for your child. Visit their website to find out more information on the programs they offer and how to register.
Two New Schools Opened Fall 2021!
In addition to the Donald R. Getty School, two additional schools opened Fall of 2021. Garth Worthington K-9 School opened in Chappelle East, and Dr. Anne Anderson High School is right next door in Heritage Valley. Click the links below to find out more information from the Edmonton Public School Boards.