With its small-town charm located in southwest Edmonton, Chappelle Gardens made its mark at the National CHBA Awards on February 16, 2023.
The Brookfield Residential development team was extremely proud to have five of our communities in Alberta recognized as finalists. Two finalist communities in Calgary – Livingston and Seton. Plus, three finalist communities in Edmonton – Chappelle Gardens, Edgemont, and The Orchards.
Chappelle Gardens was awarded the Best Growing Community award back in 2021, with much of the credit going to our Residents' Association and how they brought the sense of community together, in a safe way, through COVID-19. To win for a second time credits our Livability Research and how we continue to open the conversation with residents to add even more amenities and social connection opportunities that matter most to them.
We've created that small town feel for families to live full lives—whether they want to grow urban gardens in their front yards, connect with friends, or stay active through extensive walking trails. Peace and quiet is abundant in this community, while connection to the city and a short commute to all parts of the city makes us convenient.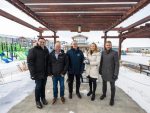 Chappelle Gardens is an example on how Brookfield Residential master plans communities around architecture, amenities, and residents. Together with our builder partners, residents' association, planners, and boots on the ground, it continues to grow and welcome new residents across Canada and the world.
The best is yet to come. We look forward to welcoming more families to Chappelle Gardens and enriching the community in the years to come.
To see a list of all 2023 CHBA National Awards click here and to read the full article in the Edmonton Journal click here.