Another great improvement!
Like all new communities, construction is inevitable. Fortunately, it means that the community is growing and more improvements are being made to enhance the quality of living for those living and working within.
Currently the 141st addition is causing some traffic detours but the good news is that it's almost complete. The road is scheduled to open in the next couple weeks and will be a vast improvement to the road it's replacing. This 141st connect will give those traveling into and ouf of the community instant access to 41st ave which is minutes away from the Alberta 1 highway, airport access and other great amenities.
Here is what the road will look like when completed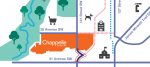 Current Traffic Disruptions